Wow! Check out what I go from Hormel Foods this month!!! 4 LBS of Flame Seared Pork Babyback Ribs!!! … and lots of other good stuff… but MMM MMMM MMMMMM… I do *heart* them babyback ribs!!!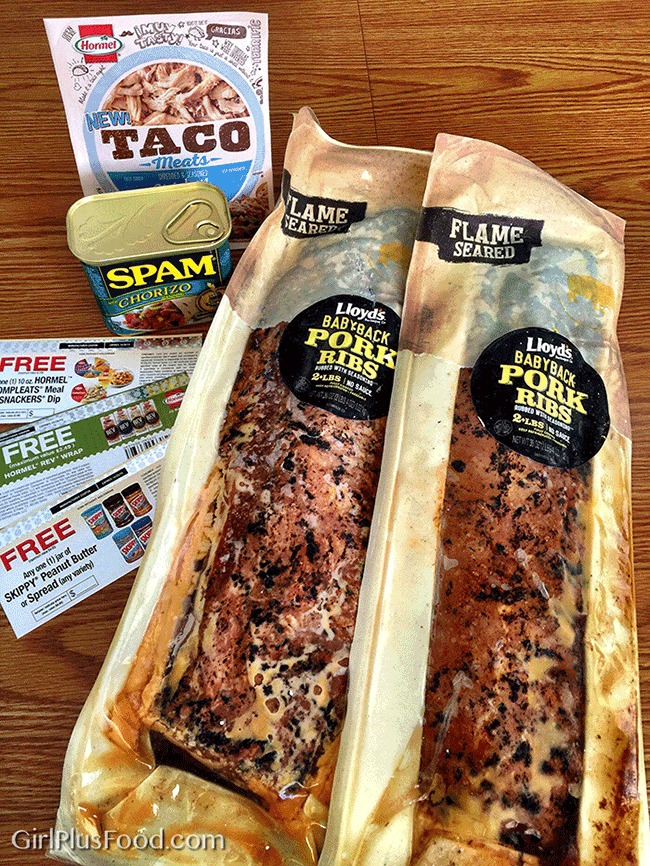 HORMEL® TACO MEATS Shredded Chicken, SPAM® Chorizo, LLOYD'S® Babyback Pork Ribs, and coupons for FREE Hormel products!!!

The free coupons got me: HORMEL® REV® #13 Bacon Club Wrap, HORMEL® COMPLEATS® Macaroni & Cheese, and SKIPPY® Natural Creamy Peanut Butter Spread with Honey

And received this HORMEL® Real Bacon Sprinkles via FedEx the next morning… this is serious!!!
I've partnered with Hormel Foods as part of their Extended Family Blogger Program. While Hormel Foods provides me material and necessary resources to complete various activities, all statements and sentiment in GirlPlusFood.com are my own!
P.S.
Lemme know what you think!
Carmen is a mom, life strategist, religion teacher, best selling author, advice columnist, foodie wannabe, and advocate for victims of narcissistic abuse. She is currently living la vida loca in Vegas with her not-so-little human… prepping him for med school while pseudo-adulting, Tahitian dancing, and exploring the delicious world of bubble tea *woo!*